Yushania anceps
(A considerable number of synonyms have accumulated for this species, including Arundinaria anceps, Arundinaria jaunsarensis, & Sinarundinaria anceps.)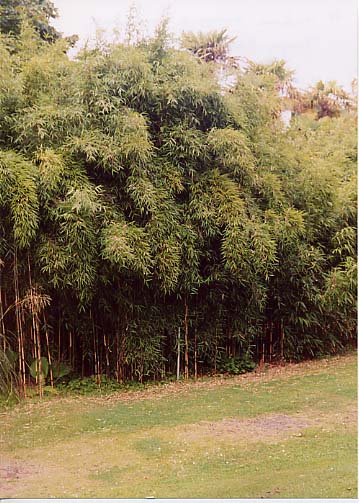 A very beautiful running bamboo introduced from India in 1865.

Forms plentiful upright, well spaced, glossy green canes with

masses of attractive narrow leaves.

Average height is between 8 and 13ft.(4m) high but on favourable sites it can be much taller.

Upright green culms, sometimes gracefully arching under the weight of foliage.

Shade tolerant and can survive considerable competition from trees or shrubs, though its height will be reduced under these conditions..

Forms a steadily expanding large clump or grove.

Has tolerated -18C.

Exceptionally attractive as a screen or large specimen plant where space permits. Also has good potential for growing in large containers where its spreading nature is an advantage for a quick effect.


Yushania anceps 'Pitt White' -

This form is similar but has smaller leaves and is taller and even more luxuriant. A mature specimen in Dorset has reached a height of approximately 40ft (12m).




e-mail: sales@uk-bamboos.co.uk
Whitelea Nursery, Tansley, Matlock, Derbyshire. Telephone: 01629 55010
Updated 30/3/2020