Fargesia murielae
"Umbrella Bamboo"
Introduced from China by Earnest Wilson in 1913 and named after his daughter.
Graceful, slightly arching foliage. Quickly forms a dense non-running clump of closely spaced canes which are almost invisible under a mass of foliage.
Eventual height around 11ft. (4m)
One of the most useful and versatile bamboos.
Very hardy and can be grown in sun or light shade. Has tolerated -25C.
RHS. Award.
Suitable as a specimen plant, screen, or can be grown in containers. Its varieties provide a choice of different heights.
This species and its original varieties flowered from around 1990 and subsequently died out. All our stocks are the new generation which is not expected to flower again for many years.
We offer Fargesia murielae derived from seedlings raised at our own nursery together with the following forms, selected by other nurseries.
'Grune Hecke' & 'Mae' are selected forms of the type.
Several other varieties as follows;-
'Bimbo'

- Dwarf and compact. 3ft.(1m)
Fargesia murielae 'Simba'
'Harewood' - Reaches a height of only 4 to 5ft (1.2m) - very limited availability
'Jumbo' & 'Super Jumbo' - Taller than the type and with broader leaves. Approximately 10ft (3/4m)
'Simba' - 6/7 ft. (2m)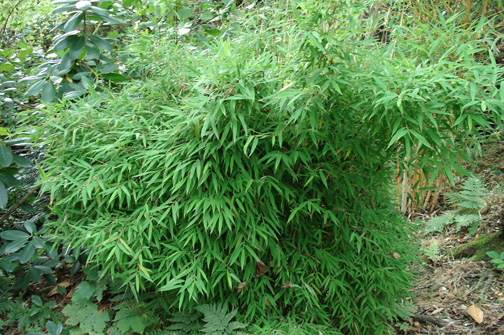 Fargesia murielae 'Simba'
Fargesia murielae 'Harewood'