Phyllostachys nigra
"Black Bamboo"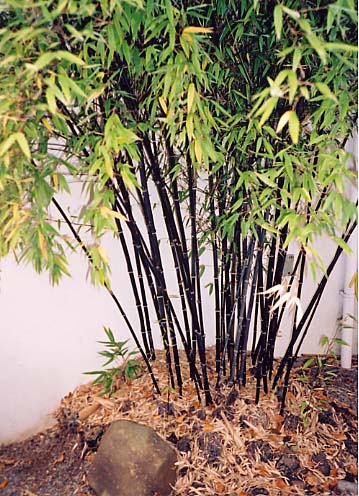 A dramatic specimen plant introduced from China around 1823.
In warmer climates it is capable of running but in the cooler conditions of the UK it usually remains clump forming except in very favourable growing areas.
Average height at maturity 12/15ft.(4/5m) or more.
Canes need to be exposed to full sun to develop the most intense stem colour which normally appears only in their second year.
Growth habit is upright or slightly arching.
Has tolerated -20C. Protection from wind is desirable.
The leaves are fairly small and are greyish beneath.
There may sometimes be some loss of foliage quality by the end of the winter but this will be concealed by new growth in summer.
RHS. award.
A very striking specimen plant. Can also be used for screening but fills out more slowly than such species as Phyllostachys aureosulcata.
Often grown in containers but foliage may then sometimes become rather pale.
Limited availability in larger sizes.
Phyllostachys nigra 'Punctata' may be a more vigorous form, often almost identical in appearance.
Phyllostachys nigra 'Hale'
A superb selected form which colours up very readily.
It has a compact growth habit and is rather slow growing so availability is always very limited.
At the nursery, 'Hale ' has reached a height of 3m and remained a tight clump for 13 years. Capable of forming glossy ebony black canes.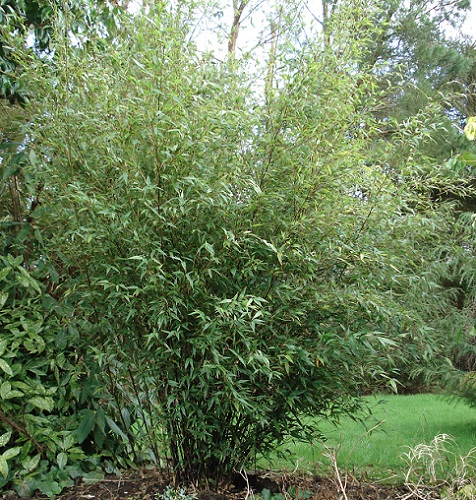 Phyllostachys nigra 'Hale'