Phyllostachys nigra 'Megurochiku'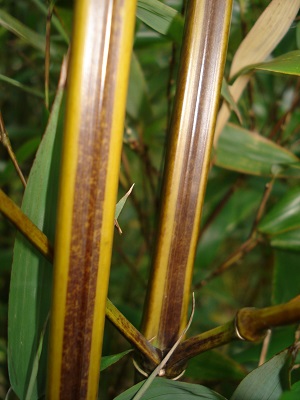 A form of Phyllostachys nigra which is rare both in the wild and in cultivation.
Similar in appearance to 'Henonis' but with a distinctive brown or almost black sulcus (groove) on the older culms.
The foliage is dark green and appears to remain in better condition over winter than Phyllostachys nigra, possibly because it originates from a colder location.
The culms are initially green, ageing to pale orange or a yellowish green which forms a very distinctive contrast with the dark sulci. Stem colour may sometimes be better in cooler conditions.
Has tolerated -21C.
Forms an upright, open clump. Height 16ft.(5m) or more.
A choice, slow growing specimen plant, colouring best in full sun.
Very limited availability.