Thamnocalamus crassinodus 'Kew Beauty'

An exceptionally attractive non- running bamboo forming a very dense, arching clump around 12 to 14ft.(4/5m) high with a spread of 75/150cm in 10 years.

An elegant, delicate looking

plant with very small leaves on distinctive blue-grey canes which become red or brown with age.

The branches are attractively tinted with red. This is much more visible on younger plants but largely obscured by the masses of foliage on more mature specimens.

Regular thinning of the older canes will allow new growth to be more effectively displayed.

Not quite so hardy as other sorts so will benefit from light shade and shelter from wind. In very cold winters a proportion of the leaves may be shed but they are quickly replaced in spring.

Has withstood -15C. However the hardiness of Thamnocalamus crassinodus varieties is not fully resolved and it may increase with greater maturity. It could be advisable to protect youger plants with fleece during particularly cold winters.

Best in light shade.

Mostly used as a specimen plant but sufficiently tall and dense for screening. Unsuitable for containers.

Slow to propagate and usually only available in small numbers.

see also 'Gosainkund' (syn. 'Glauca')
'Kew Beauty'
'Kew Beauty'
Thamnocalamas crassinodus 'Merlyn'

Other Varieties

'Lang Tang' has even smaller leaves than 'Kew Beauty'.
'Lang Tang' has a broad habit and is much less tall and less vigorous. (no longer available)
'Merlyn' forms a tall, upright clump and is noticeably more robust and fresh-looking than the other forms.The canes become yellow/green without the red tints of other varieties.
Named after Merlyn Edwards who introduced this clone to the UK.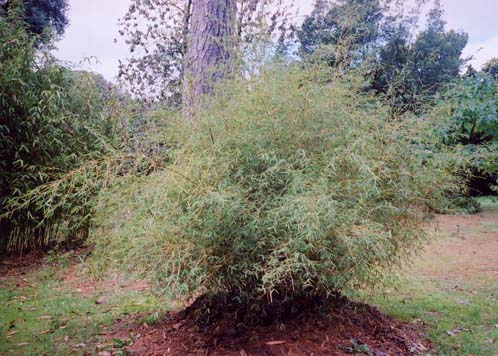 'Merlyn'
'Lang Tang'