About Us
Established in 1973 and situated at 700ft. above sea level, close to the Peak District, the nursery specialises in the production of a wide range of hardy bamboos. At present over 150 species and varieties are being propagated, many available in large sizes. Although specialising in bamboos, we also have a range Grasses and small numbers of Ferns, Herbaceous Plants and Trees.
~~~~<>~~~~
Collection from the Nursery.
Unfortunately it is not feasible for customers to access the growing area. However in cases where a particular bamboo or batch of plants has been chosen via telephone or email, these can be prepared and positioned ready for collection on a mutually convenient day. Payment in advance is not required and there is of course no obligation to purchase when seen.
We are not specialists in mail order sales and unfortunately have no means of delivering single plants or small numbers. For orders over £400, excluding delivery, we can though quote for palletised deliveries based upon your postcode. In this case there is effectively no weight limit but to ensure that pallets can be double stacked, carriers will only accept a total height of 2.2m ( 7ft 2 ins.) (i.e. includes:- thickness of pallet base + height of pot + height of plants). Occasionally bamboos can be packed on their side or flexible canes can be bent over but otherwise their height will need to be reduced to about 1.8/2.0m. Full details about deliveries can be sent by email.
Purchasing
Payment by cash or cheques only please. We regret that it is not possible for us to carry out card transactions but for palletised deliveries, BACS payments are the quickest and most convenient.
Delivery and collection

Many of our bamboos are grown in large sizes so that they quickly produce an impressive effect. Because of their size, however, they are not welcomed by delivery companies who require small items in standard cartons which can be mechanically sorted.
Whenever possible we encourage customers to collect their plants from the nursery. We will be pleased to assist with packaging, and as bamboos are both robust and flexible, they can be readily bundled and made quite compact, so that quite a number of them can easily be fitted into the average car.

Where a number of plants are required, the use of a pallet delivered by a haulage company may be an alternative. In this case the weight of the plants is more or less unlimited, but the carriers impose a height limit of 2.2m ( i.e. includes:- thickness of pallet base + height of pot + height of plants). This means that the height of many of our bamboos may need to be reduced. The tops of bamboos with thinner canes can sometimes be bent over rather than trimmed but this cannot be guaranteed. Trimming has no effect upon this years new growth which arises from ground level.
It may not be possible to despatch bamboos during hot or unusually cold weather or to send plants which have soft new growth. Please ask for further details if you think a palletised delivery may be of interest. Costs are dependent upon locatio and the service required so please mention your postcode. Payment for this service can be made by BACS transfer if preferred.
Unfortunately sending single plants or small numbers on a pallet is not feasible as the costs would be disproportionate.
All prices include VAT at the standard rate.
Unfortunately it is not possible to despatch plants outside of the UK and Ireland.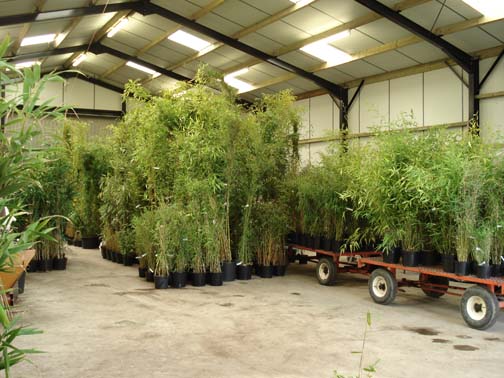 ~~~~<>~~~~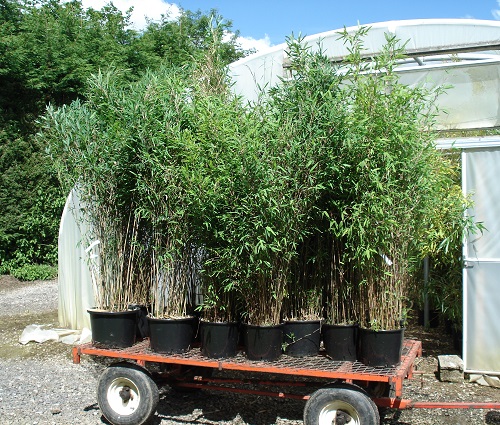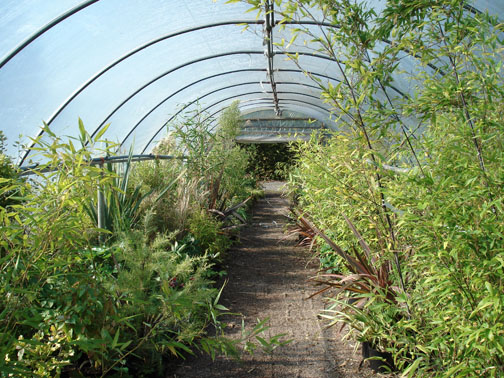 Specimen sized bamboos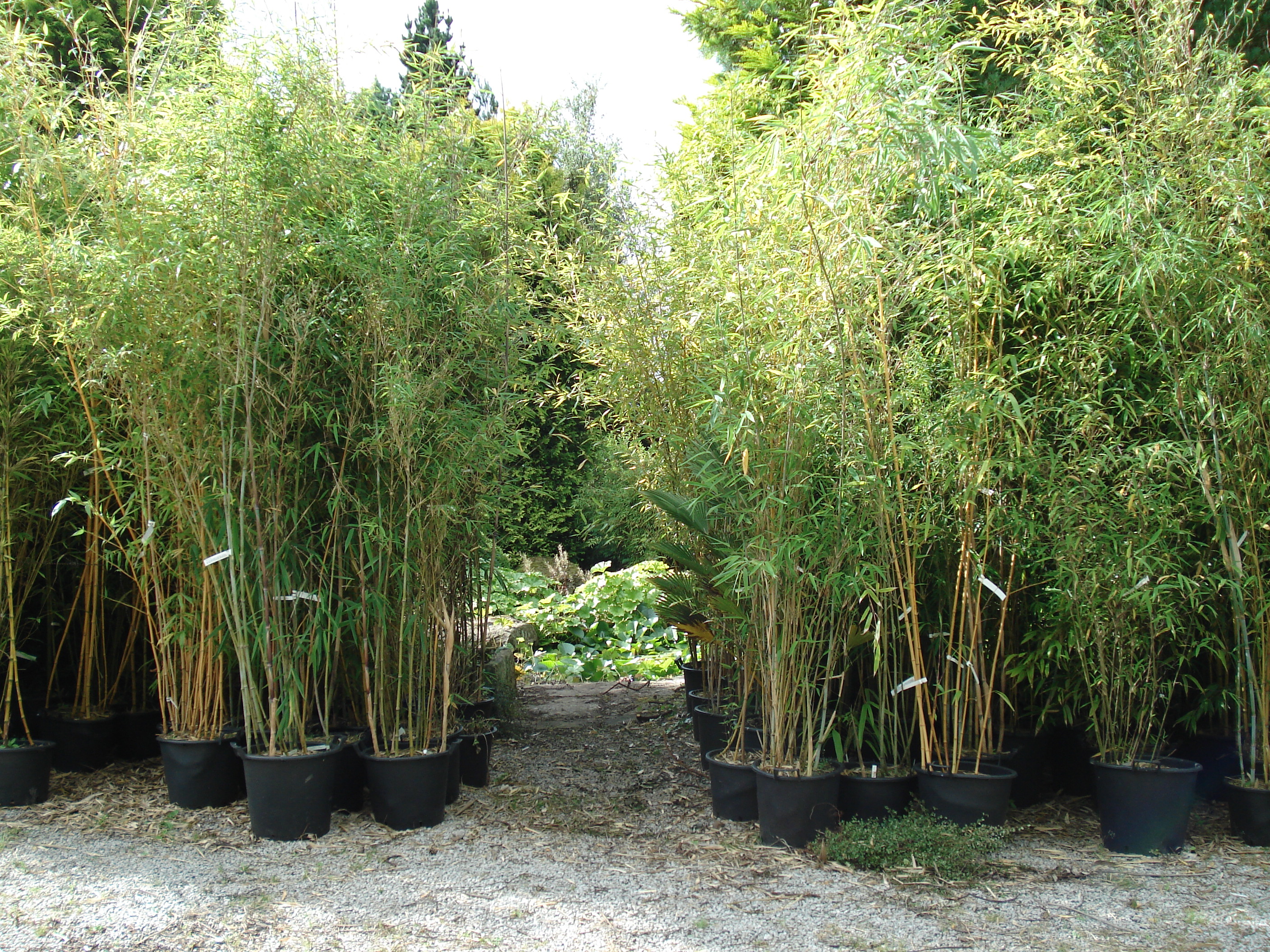 David Wilson BSc Hort.
Whitelea Nursery,
Whitelea Lane,
Tansley, Matlock,
Derbyshire, DE4 5FL

Telephone: 01629 55010

e-mail: sales@uk-bamboos.co.uk ) revised 9/12/2021