About Us
Established in 1973 and situated at 700ft. above sea level, close to the Peak District, the nursery specialises in the production of a wide range of hardy bamboos. At present over 150 species and varieties are being propagated, many available in large sizes. Although specialising in bamboos, we also stock a range of Shrubs, Grasses and Trees etc.
~~~~<>~~~~
Visiting the nursery.
We are pleased to receive visitors, but please remember that ours is a working nursery rather than a garden centre - we do not have fixed hours of opening, so it is essential to contact us before setting off in order to ensure that someone is available to deal with your enquiry.
Purchasing
Payment by cash or cheques only please. We regret that it is not possible for us to carry out card transactions.
Delivery and collection

Many of our bamboos are grown in large sizes so that they quickly produce an impressive effect. Because of their size, however, they are not welcomed by delivery companies who much prefer small items in standard cartons which can be mechanically sorted. At present our only means of sending mail order parcels is by Parcel Force. The maximum parcel length permitted for this service is 1.5m. In order to conform to this length, culms can be bent or trimmed which causes no harm to the plant as its strength is in the root system. Delivery charges are based upon weight - please ask for a quotation as costs vary according to the location and type of service required as well as weight. It is helpful if you can mention your postcode or nearest town. It may not be possible to post bamboos during hot weather or to send plants which have soft new growth.
Whenever possible we encourage customers to collect their plants from the nursery. We will be pleased to assist with packaging, and as bamboos are both robust and flexible, they can be readily bundled and made quite compact, so that quite a number of them can easily be fitted into the average car.

Where a number of plants are required, the use of a pallet delivered by a haulage company may well be a good alternative. In this case the weight of the plants is more or less unlimited, but as for this method they travel upright rather than on their side, overall height, inclusive of pots and the pallet is limited to the height of the lorry - about 2.2m, although the tops can sometimes be bent over It is therefore sometimes necessary for the tops to be trimmed. Please ask for further details if you think this means of delivery may be of interest.Costs are dependent upon location and the service required so please mention your postcode. Unfortunately the costs of sending just 2 or 3 plants on a pallet woud be disproportionate. .
All prices include VAT at the standard rate.
Unfortunately it is not possible to despatch plants outside of the UK and Ireland.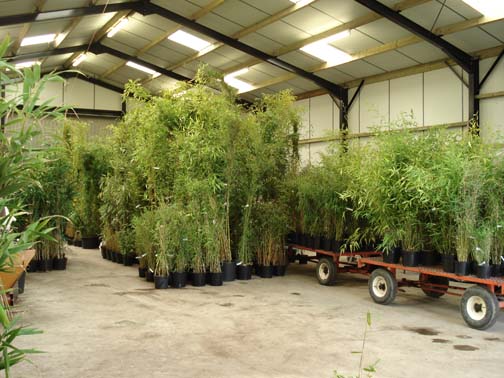 ~~~~<>~~~~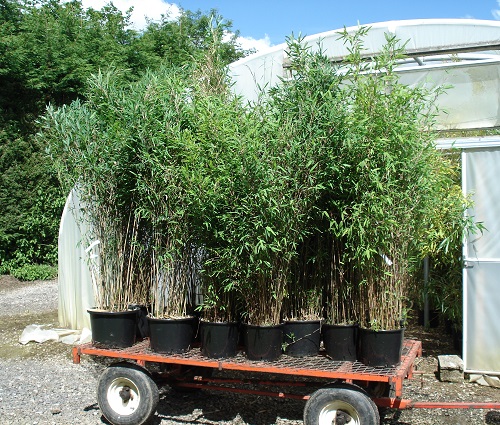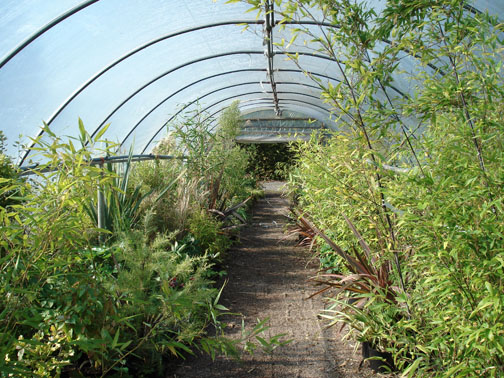 Specimen sized bamboos
Page revised 19/3/2018
David Wilson BSc Hort.
Whitelea Nursery,
Whitelea Lane,
Tansley, Matlock,
Derbyshire, DE4 5FL

Telephone: 01629 55010

e-mail: sales@uk-bamboos.co.uk